BULK ORDERS? CALL 01782 550733 FOR DISCOUNTS!
Quick Drying Gloss Enamel (Topcoat)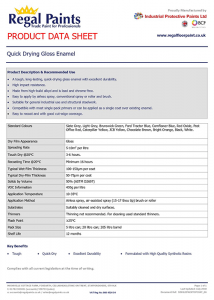 Technical Overview
Slate Grey, Light Grey, Brunswick Green, Ford Tractor Blue, Cornflower Blue, Red Oxide, Post Office Red, Caterpillar Yellow, JCB Yellow, Chocolate Brown, Bright Orange, Black, White.

*Other RAL and British Standard colours can be made, dependent on the quantities required.

5-8m2 per litre, dependent on film thickness

Typical Wet-Film Thickness

Typical Dry-Film Thickness

58% (ASTM D2697) ±3%, dependent on colour

420g per litre (from formula to satisfy EU Solvent Emissions Directive)

Suitably cleaned and dry surfaces

Thinning not recommended. For cleaning, use standard thinners.

5 litre can; 20 litre can; 205 litre barrel
Regal Paints® - Metal Paint Manufacturers
Regal Paints® manufacture high performance metal paint for a range of industrial and commercial applications. These specialist paints include our two pack epoxy metal paints as well as our single pack metal paints like Aluminium Quick Dry Enamel,
Decorative Gloss
, 
One Coat Steel Enamel
,
Quick Drying Gloss Enamel
, and
skip paint
. Our paints are also available in a versatile range of colours, including old favourites like
red oxide primer
and
red oxide paint
 as we well as modern staples like
black metal paint
and
grey metal paint
. All of the Regal range of metal primers and topcoats are formulated to provide the very best possible protection on a wide range of substrates. We continue to supply our paints to many new and long-standing customers in the engineering, agricultural, construction and trade sectors and are able to formulate and supply bespoke solutions and manufacture to your RAL (quantity dependent). In addition to our range of
metal paint
products, Regal Paints provide a comprehensive selection of
floor paint
, masonry paint and timber paint as well as paints for specialist applications.