Hayley and Simon's Bluebird School Bus Conversion – Painted with Regal JCB Yellow Metal Paint
Thank-you for reading our blog! This is the story of a school bus conversion, a dream, an amazing family and is quite possibly the nicest blog we have had the pleasure of sharing with you.
An awesome project with a few gasps along the way!
Given the current Covid-19 restrictions that we are all living with at the moment, most of us are probably dreaming of holidays and travel, spending time away from the same four walls and fulfilling our natural sense of adventure. It all seems so distant doesn't it! So whilst I was sat working away at the computer, most probably listening to the drum of the English rain on the windows, what better and more life-affirming #showusyourproject story should land in my inbox but this one. The story of a school bus conversion!
It's funny how asking customers to show how they have used a drop of paint can bring a smile to your face. Hayley and Simon sent in their photos and email telling us here at Regal Paint of how they have realised their ambition to up sticks and go on the adventure of a lifetime with their family…..in a converted bus!
This is the story of the conversion of their bus, not just any bus, but a Bluebird All American Rear Engine (or AARE for short), into their family home…a project which tested their strength in more ways than one.
Product used:
Quick Drying Gloss Enamel Metal Paint – JCB Yellow, 20 Litres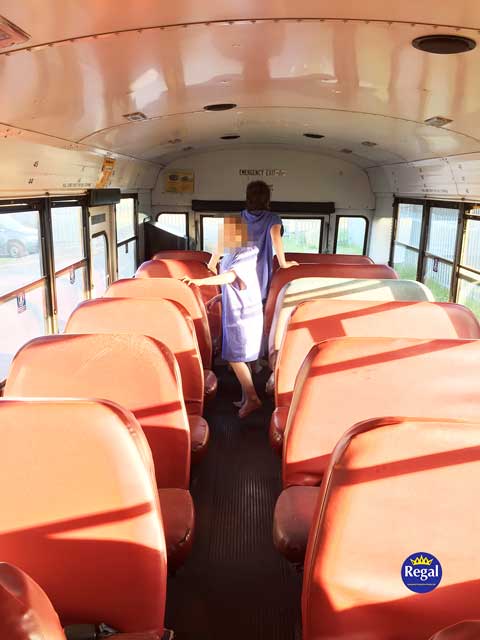 The interior of the Bluebird Bus, taken before the modifications were made.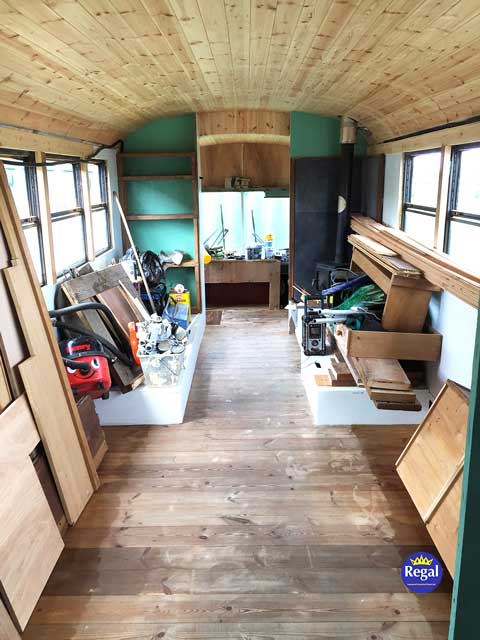 The interior of the Kitchen area of the Bluebird Bus, taken before Hayley, Simon and their boys worked their magic!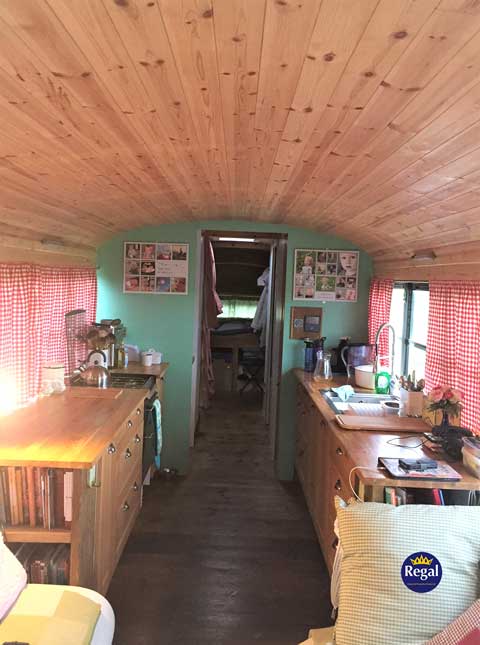 The new interior of the Kitchen area. A labour of love that has restored a unique and beautiful vehicle and made a home on the move for this exceptional family.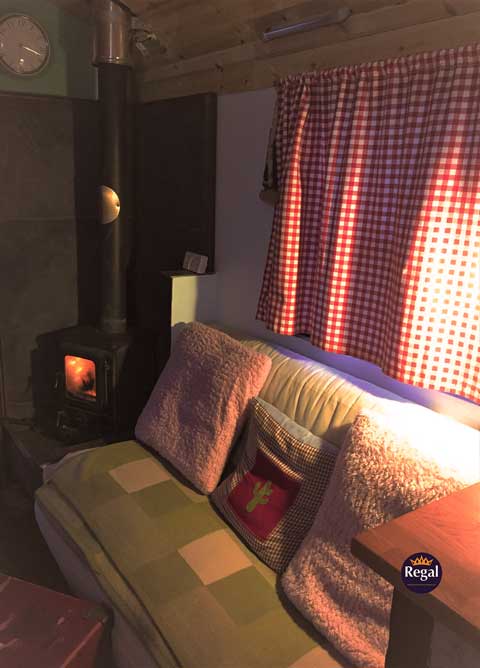 The warm and cosy living area with it's real wood-burning Hobbit fireplace!
The iconic Bluebird school buses
You may or may not be a bus enthusiast, but most of us will recognise the yellow Bluebirds as the American school buses we have seen in movies and on TV shows. There are so many famous scenes to mention: –
Ferris Bueller's Day Off: The end credits
Batman – The Dark Knight Rises: The bank robbery scene
Sky High: The bus 'take-off' scene
A Nightmare on Elm Street 2: The school bus scene
Clint Eastwood's Dirty Harry: The school bus hijack scene
The Simpsons: Every infamous school bus scene!
The list could go on! 
At the time of writing this blog, more than 180,000 of the iconic yellow buses are in operation. And since Bluebird's formation in Georgia, USA, in 1927, over half a million buses have been sold. Many of the buses are still in operation because they are built so solidly and built to last.
It is due to this reliability and design that Hayley and Simon purchased their Bluebird AARE. They then spent 18 months converting it into an outstanding home. Sounds like a complicated job on the best of days, but their story doesn't come without a few gasps along the way.
Hayley and Simon's amazing story of true teamwork
As a talented carpenter and builder, Simon worked extremely hard on the school bus conversion. To turn it into a family home required a lot of creativity and labour.  At 6 foot 4 inches, Simon is very tall and to accommodate his height comfortably, he and Hayley had to raise the whole roof of the bus by 20cm. They also had to change some of the window structure to accommodate the inside bedrooms and shower/WC. 
As you can imagine, the structural alterations took up a lot of time. Alongside work and family life, it was a mission to get the conversion finished. Fast-forward to December 2019. Part way through the alterations and in need of a relax, Simon, Hayley and their children were celebrating Boxing Day with Hayley's sister and her family. As they were about to sit down to dinner, Simon suffered an unexpected seizure. Luckily, Simon's brother-in-law is a key-worker for the NHS Ambulance Service and he jumped into action straight away. However, Simon's seizure came completely out of the blue. Such was its ferocity that Simon managed to dislocate and break both of his shoulders.
They later learned that shoulder dislocation and breaks can happen during a seizure and are the most complicated and painful of breaks. But, in Hayley's words, the miracle was that Simon felt no pain. Because of this, the doctors almost missed the dislocation and breaks. It was only because Simon couldn't move his arms that Hayley pushed for an x-ray where they discovered what had happened! And Hayley further told me that "he managed to recover within 3 months – again another miracle".
Hayley is the real Wonder Woman
Unfortunately, all of this meant that Simon was out of action. Like the trooper that she is, Hayley quickly learned how to rivet in order as to try to continue the work while Simon mended. Amazingly, Hayley then purchased 20 litres of our Regal Quick-Drying Gloss-Enamel in JCB Yellow and hand-painted the whole bus, top to bottom, by herself. And we think she did a superb job!
Finally finished, the school bus conversion is both beautiful and brilliant. The interior is quite stunning! It boasts a wonderful Hobbit fireplace surrounded by a gorgeous living area, a huge kitchen space with a floor-to-ceiling larder, and a utility area which houses a washing machine/drier and fridge-freezer. Making great use of space, the Bluebird also has two 6-foot bunks for Hayley and Simon's sons! And the couple have the luxury of a king-size bed, together with wardrobes and a shower room/WC.
Living the dream in school bus conversion
With the conversion now complete, in all its stunning yellow glory, Hayley, Simon and their two sons are now living in the Bluebird bus and it is their home. Wonderfully, and to the envy of most of us,  the family are currently travelling around Europe! When we were last in touch, they were living and working on a farm.
And it doesn't end there! Because, as a qualified teacher, Hayley is also home-educating their two sons who are both autistic. And following Simon's seizure, Hayley is the sole bus driver – something which she says was hugely daunting at first.
With sheer hard-work and determination, Hayley, Simon and their boys have turned their dream of a European adventure into reality.
Upcoming digital book
The family are currently writing a digital book about their Bluebird school bus conversion and this will soon be available to download from Amazon. They do not have an Instagram page set up yet, but do have an email address dedicated to any questions or comments your might have about their project or to be notified about the book release.
Please email Hayley at hs9566290@gmail.com.
Wishing Hayley, Simon and their boys all the very best
Life has thrown this lovely family a few curve-balls along the way. But it just goes to show that if you have the drive, and a tin of yellow paint, dreams really do come true!
Everyone here at Regal Paint wish Hayley, Simon and the boys all the very best on their new life of adventure, experience and wonderful family memories that most of us can only keep dreaming of ❤ 
Take care and please stay safe 🌈
All the team at Regal Paint
Find out more!
If you are interested in finding out more information about Bluebird buses, the Corporation website is https://www.blue-bird.com/index.php and for enthusiasts, did you know that you can even buy branded merchandise at https://www.mybrandmall.com/bluebird. 
If this school bus conversion story has stoked a fire in your belly and you too would like to convert a bus into a home or holiday motor-home, there is lots and lots of information and ideas out our there online…take a look on Pinterest.
If you are looking for a bus to convert, Hayley and Simon recommend Mike Daley at http://www.usedcoachsales.co.uk/. 
Product Used
20 litres of our Quick-Drying Gloss-Enamel in JCB Yellow.  Our quick-drying gloss enamel is used by many engineers and fabricators up and down the country. It contains anticorrosive properties and dries quickly and strongly, suitable for application by brush, roller or spray. If you would like to talk to us about which metal paint is suitable for your job, please call us on 01782 550733.
Follow us on Social Media!
And don't forget to #showusyourproject – we love to see how you use our paints!
Would you like to be in with the chance of winning a £50 Amazon eVoucher?
Would you like to be in with the chance of winning a £50 Amazon eVoucher? Why don't you enter our January #showusyourproject competition? We love to see how our customers are using Regal products. No matter how big or small your project, we welcome all entries!
Simply send us a few words about your project and the paint that you used, along with photographs* to sales@regalpaints.co.uk. Or if you are social media savvy, why not tag us on Facebook @regalpaintuk or Instagram @regalpaintuk (hashtag #regalpaintuk)?