Product Description & Recommended Use
Regal Clear Finish is a two-pack, fast-drying, high gloss, clear, hard-wearing and protective finishing-coat.
The hard, glossy finish will give your floor superb aesthetic appeal.
Made with a tough, high quality, solvent-based acrylic co-polymer.
Very good alkali and humidity resistance and excellent hardness.
Can be applied over both the Regal Single-Pack and Regal Two-Pack flooring systems.
Can be used to seal in decorative paint-flakes that are sprinkled onto the floor to give a granite effect.
Can be mixed with metallic glitters to give a highly decorative finish to your floor. Ideal for shops, bars and other retail areas.
Note on Application
Apply thinly.
Not to be applied any thicker than 10m2 per litre.
Applying this product too thickly may risk solvent entrapment and a surface that does not harden.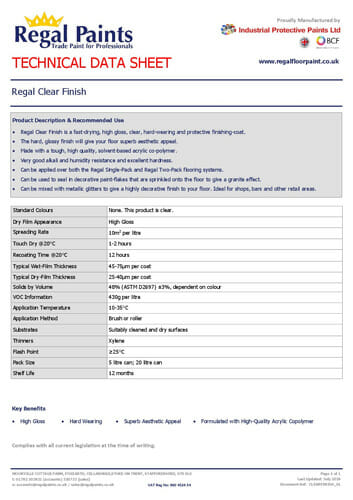 Technical Overview
| | |
| --- | --- |
| | None. This product is clear. |
| | |
| | |
| | |
| | |
| Typical Wet-Film Thickness | |
| Typical Dry-Film Thickness | |
| | 48% (ASTM D2697) ±3%, dependent on colour |
| | |
| | |
| | |
| | Suitably cleaned and dry surfaces |
| | |
| | |
| | 5 litre can; 20 litre can |
| | |