Congratulations to Nikki who is a joint winner of our December #showusyourproject competition!
December Winner: Painting Poppies for Remembrance Day.
To whom it might concern.

The project I would like to submit is not run of the mill, veterans at Battling On a veteran based not for profit community group created over 600 scallop-shell poppies for Remembrance Day 2022. These handmade poppies were made from locally sourced Cornish scallop shells and were hand. In total the veterans made over 600 poppies, they also made silhouettes of soldiers and a war horse as part of a display for Remembrance Sunday.

Their hard work and determination earned them a spot-on BBC Spotlight evening news on Remembrance Day, and a prominent role on CountryFile aired on 13.11.22

The veterans also created wreaths with these scallop-shell poppies, and they were placed at Plymouth Hoe, as a centerpiece at the Cornish County Hall, and one was sent on the Routes of Remembrance train up to Paddington station.

It has taken months for so many to be made by Veterans of various military backgrounds, and they're incredibly proud of what they have achieved.

The poppies are now available for a donation to Battling On. The donations will help Battling On provide, support and activities to a wide range of veterans in crisis

Please see the attached photographs that cover the process from start to finish.

Kindest regards

Nikki Markham MBE
From:

£

33.00 ex. VAT -

£

39.60 inc. VAT
Plywood Paint / MDF Paint - A tough, long lasting, fast drying gloss finish made on a high build alkyd. High impact resistance, compatible with most primers or as a single coat. - Coverage: 5-10 m² per litre - Touch Drying Time: 3-6 hours - Recoat: 16 hours - Hard Drying Time: 48 hours
Would you like to be in with the chance of winning a £50 Amazon eVoucher?
Would you like to be in with the chance of winning a £50 Amazon eVoucher? Why don't you enter our #showusyourproject competition? We love to see how our customers are using Regal products and, no matter how big or small your project, we welcome all entries!
Simply send us a few words about your project and the paint that you used, along with photographs* to sales@regalpaints.co.uk. Or if you are social media savvy, why not tag us on Facebook or Instagram (@regalpaintuk).
*By sending in photographs you are giving permission for us to share them on social media and the website.
---
Regal Paints have been manufacturing the finest industrial paints for many years. We supply customers throughout the UK and beyond. We love to see what you do with our products and the way they are used on floors, metals walls and timber.
previous competition entries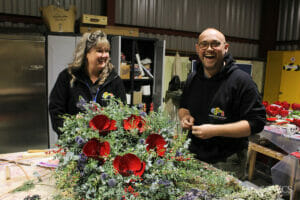 The project I would like to submit is not run of the mill, veterans at [...]