From:

£

49.50 ex. VAT -

£

59.40 inc. VAT
Two Pack High Build Epoxy Garage Floor Paint - Designed for application to concrete, cement and non ferrous metals. Excellent resistance to water, solvents, acids, alkalis and salts. Gives superb adhesion to all recommended substrates. Tough finish has long lasting abrasion and impact resistance. Recommended for areas receiving heavy traffic (vehicle / trucks). - Coverage: 5-7 m² per litre - Touch Drying Time: 12-16 hrs - Recoat: 24 hrs - Hard Drying Time: 48 hrs - Full Cure: 7 days
From:

£

49.50 ex. VAT -

£

59.40 inc. VAT
Two Pack Epoxy Floor Paint (Top Coat) - This epoxy floor coating is designed for application to concrete, cement and non ferrous metals. It provides excellent resistance to water, solvents, acids, alkalis and salts and gives superb adhesion to all recommended substrates. Tough finish has long lasting abrasion and impact resistance. Recommended for areas receiving heavy traffic (vehicle/trucks). Following application of the product: Do not park vehicles or place heavy equipment on the floor for a minimum of 48 hours Do not get the floor wet for a minimum of 7 days as this will cause bloom (discolouration) - Coverage: 5-7 m² per litre - Touch Drying Time: 12-16 hrs - Recoat: 24 hrs - Hard Drying Time:48 hrs - Full Cure: 7 days
From:

£

32.50 ex. VAT -

£

39.00 inc. VAT
Quick Dry High Build Floor Paint - A single pack quick dry floor coating which provides good durability against abrasion and impact along with with protection against solvent, salt and water damage. Very easy to apply. Suitable for heavy duty commercial and industrial areas.
Featured Dog Kennel Floor Paint Projects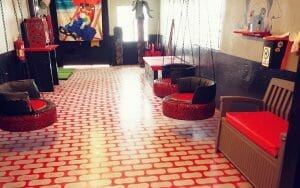 Well done to Helen and Matt from K9 Cares Ltd in Hereford who are the winners of our November #showusyourproject competition! Once again, we again received some outstanding entries for this month's competition; projects that we hope we can share with you in the near future.