BULK ORDERS? CALL 01782 550733 FOR DISCOUNTS!
Antislip Quick Dry Concrete Floor Paint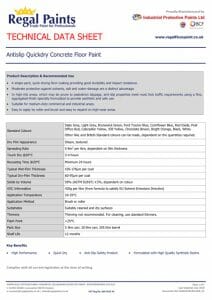 Technical Overview
Slate Grey, Light Grey, Brunswick Green, Ford Tractor Blue, Cornflower Blue, Red Oxide, Post Office Red, Caterpillar Yellow, JCB Yellow, Chocolate Brown, Bright Orange, Black, White.

*Other RAL and British Standard colours can be made, dependent on the quantities required.

5-8m2 per litre, dependent on film thickness

Typical Wet-Film Thickness

Typical Dry-Film Thickness

58% (ASTM D2697) ±3%, dependent on colour

420g per litre (from formula to satisfy EU Solvent Emissions Directive)

Suitably cleaned and dry surfaces

Thinning not recommended. For cleaning, use standard thinners.

5 litre can; 20 litre can; 205 litre barrel
Antislip Quick Dry Concrete Floor Paint – Product Description & Recommended Use
A single-pack, quick-drying floor-coating providing good durability and impact resistance.
Moderate protection against solvents, salt and water-damage are a distinct advantage.
In high-risk areas, which may be prone to pedestrian slippage, the anti-slip properties of this floor paint meet most foot traffic requirements using a fine, aggregated-finish specially formulated to provide aesthetic and safe use.
Suitable for medium-duty commercial and industrial areas.
Easy to apply by roller and brush and easy to repaint on high wear areas.