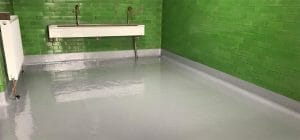 Client: Warehouse Owner (Confidentiality agreed)
Size of Floor Area: 3800 m²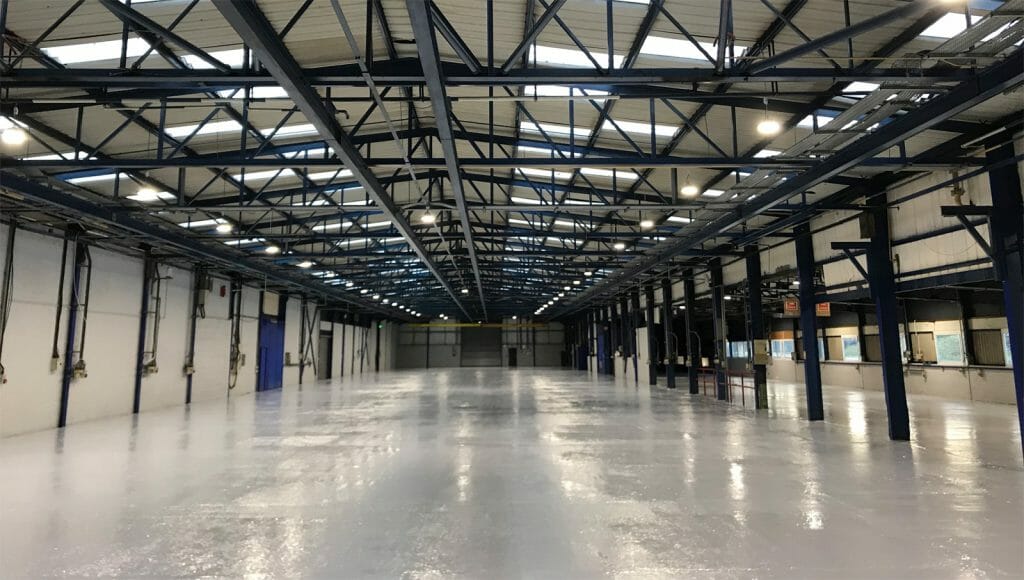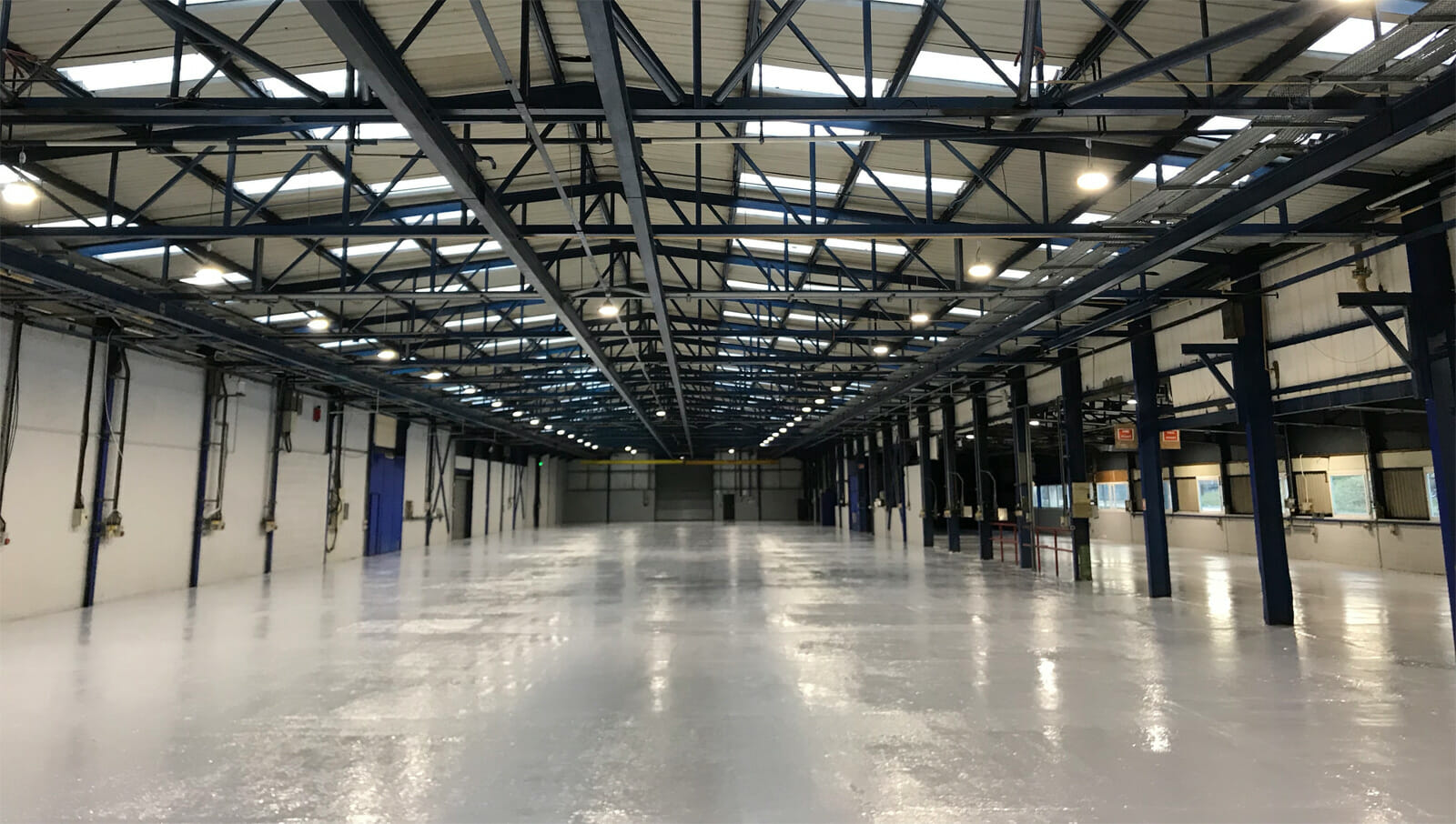 Warehouse floor paint - Step 1: Floor after basic preparation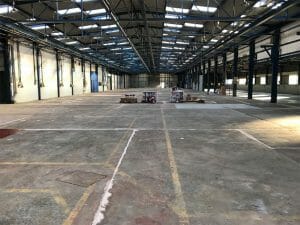 Product Suggested: Regal Clean 'N Etch
After suitably preparing the floor – Regal recommends Clean N Etch to make concrete more porous (especially new concrete) so that the paint has a surface to stick to.
Warehouse floor paint - Step 2: Floor painted with 2 pack epoxy primer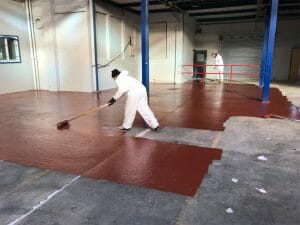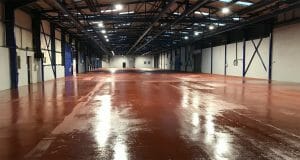 From

£33.50 ex VAT - £40.20 inc VAT
Two-Pack Epoxy Metal Primer - Designed for a wide range of metal substrates, our two pack epoxy primer offers excellent durability and resistance to contact with solvents, acids, alkalis and salts. It's hardwearing surface gives good protection against corrosion due to it's phosphate content. Two-Pack Epoxy Metal Primer is suitable for galvanised steel and aluminium. - Coverage: 5-10 m² per litre - Touch Drying Time: 12 hrs - Recoat: 24 hrs - Hard Drying Time: 48 hrs - Full Cure: 7 days
Product Chosen: Two pack epoxy primer
This is usually a red or pinky colour to contrast with the topcoat. Epoxy primer is thinner in viscosity to the topcoat, so that it is able to soak down into the concrete, penetrate the concrete. The base coat is anchored in the concrete, not just sitting on the surface. Epoxy primer dries with aa flat (matt) and porous finish – if you could at a cross-section of the dried primer under a microscope, it would look like peaks and trough. This is purposefully designed so that the dried surface-area will readily accept a topcoat, to lock into those peaks and troughs, giving good intercoat adhesion.
Warehouse floor paint - Step 3: Preparing the Epoxy Topcoat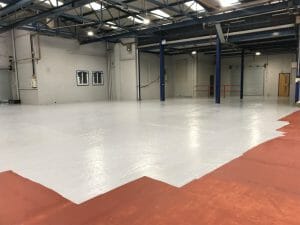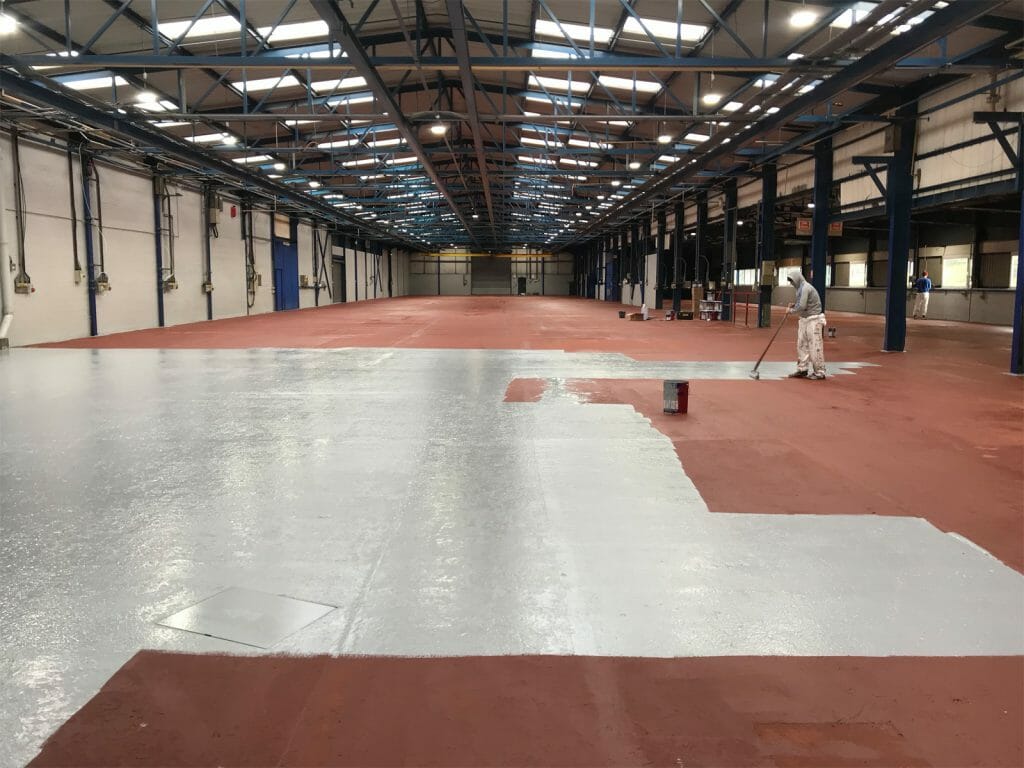 Paint Mixer - Ideal for mixing paint, adhesives, grout, mortar, cement and most liquid materials. Ensure the paint mixer is fully immersed in the liquid before use.
From

£39.50 ex VAT - £47.40 inc VAT
Two Pack Epoxy Floor Paint (Top Coat) - This epoxy floor coating is designed for application to concrete, cement and non ferrous metals. It provides excellent resistance to water, solvents, acids, alkalis and salts and gives superb adhesion to all recommended substrates. Tough finish has long lasting abrasion and impact resistance. Recommended for areas receiving heavy traffic (vehicle/trucks). Following application of the product: Do not park vehicles or place heavy equipment on the floor for a minimum of 48 hours Do not get the floor wet for a minimum of 7 days as this will cause bloom (discolouration) - Coverage: 5-7 m² per litre - Touch Drying Time: 12-16 hrs - Recoat: 24 hrs - Hard Drying Time:48 hrs - Full Cure: 7 days
Product Chosen: Two pack Epoxy Floor Paint (Top Coat), Paint Mixer
You need to use epoxy top coat with an epoxy primer because they are both made on the same resin system (the coats cross-link well, giving good intercoat adhesion). An epoxy topcoat floor paint is an extremely hard-wearing product, suitable for heavy industrial use (eg where stacker trucks are in use). It is important to mix carefully with a suitable paint mixer and to allow the epoxy paint to have the recommended induction period (sweating time) after mixing and prior to use.
Warehouse floor paint - Step 4: Rolling on of paint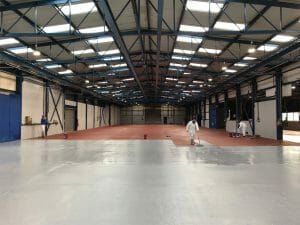 From

£5.30 ex VAT - £6.36 inc VAT
Black-Stripe Nylon material is heat-bonded to the nylon core in manufacture. Ideal for painting floors, the nylon core is solvent resistant and the Nylon fabric is virtually fluff-free in use. This makes this type of roller refill ideal for use with epoxy resin floor paint and other solvent based coatings that would pull fluff from or disolve most other roller refills. Available in four sizes: 9", 12", 15" & 18" wide.
Spiked Shoes (SPIKEDSHOES) Nylon Nail Shoes 1 Pair suitable for up to Shoe size 10 Strong webbing with metal buckles to secure 40mm Nail protrudes 30mm from bottom of shoe Ideal for use in walking over flooring adhesive and Resin coatings.
From

£7.10 ex VAT - £8.52 inc VAT
Steel Roller Frames - These floor roller frames are made from high strength galvanised steel, and available in 9" (Alloy), 12", 15" & 18". The Roller frame bar is secured with a split-pin allowing easy removal.
Products used: Spiked shoes, paint roller refills and steel roller frames
The paint is poured directly onto the floor and a roller is used to spread the coating, rather than using a tray. When painting floors, rollers trays are unnecessary – they are time consuming and you may find it starts to dry in the tray, creating flakes of dry paint which you then mix with the wet paint from the can. You only really need to use spiked shoes if you need to access areas by walking over the wet paint. On such large area, we would recommend rolling the paint onto the floor in approx. 3x3m sections – roller in one direction and then re-roller having rotated your position by 180degrees (this will help to alleviate roller marks).
Warehouse floor paint - Step 5: The finished job - drying and close up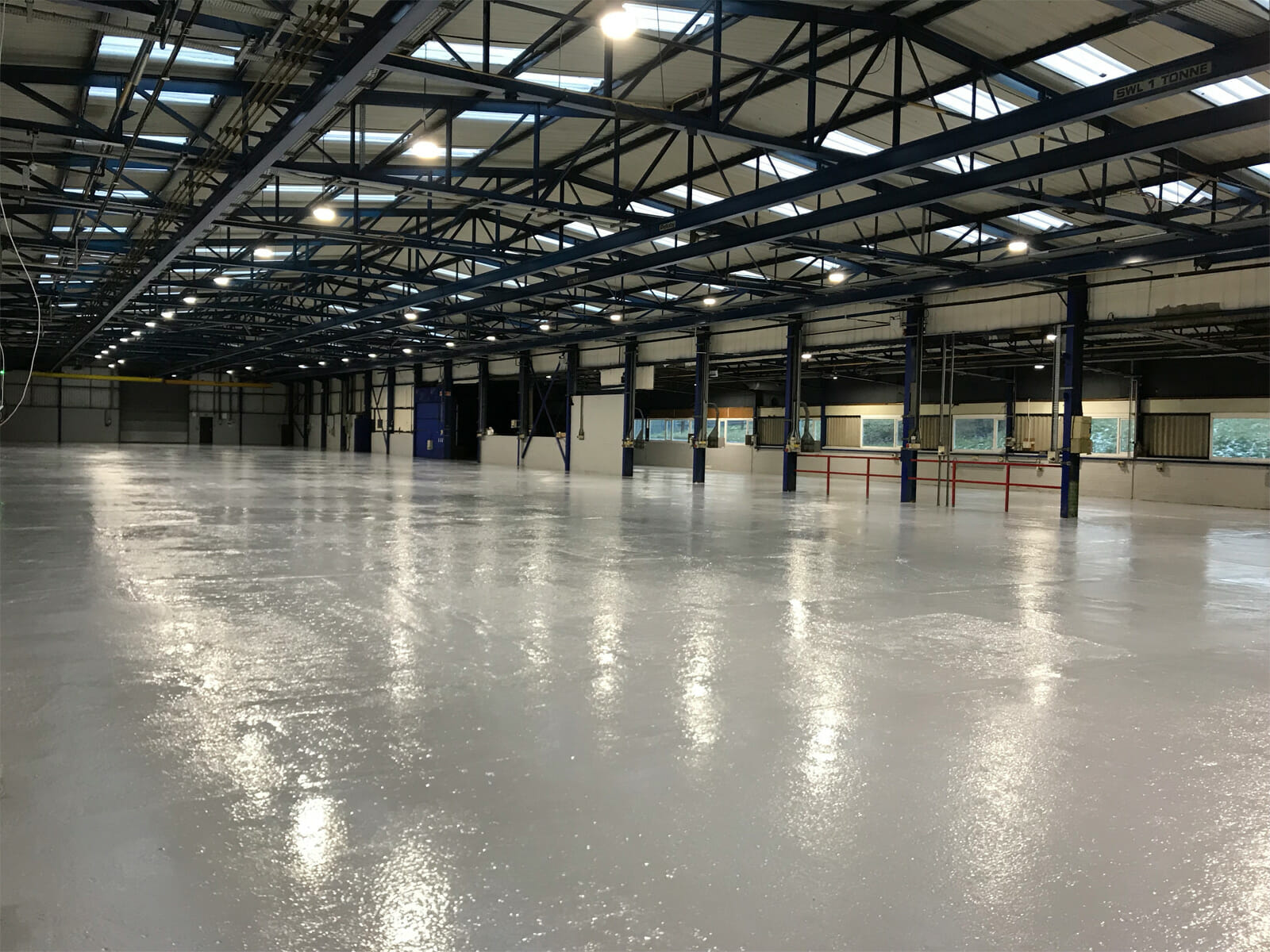 Due to the age of the building, the floor had undulations. Therefore, 2 coats of the topcoat were used. The completed job – paint is still wet in parts.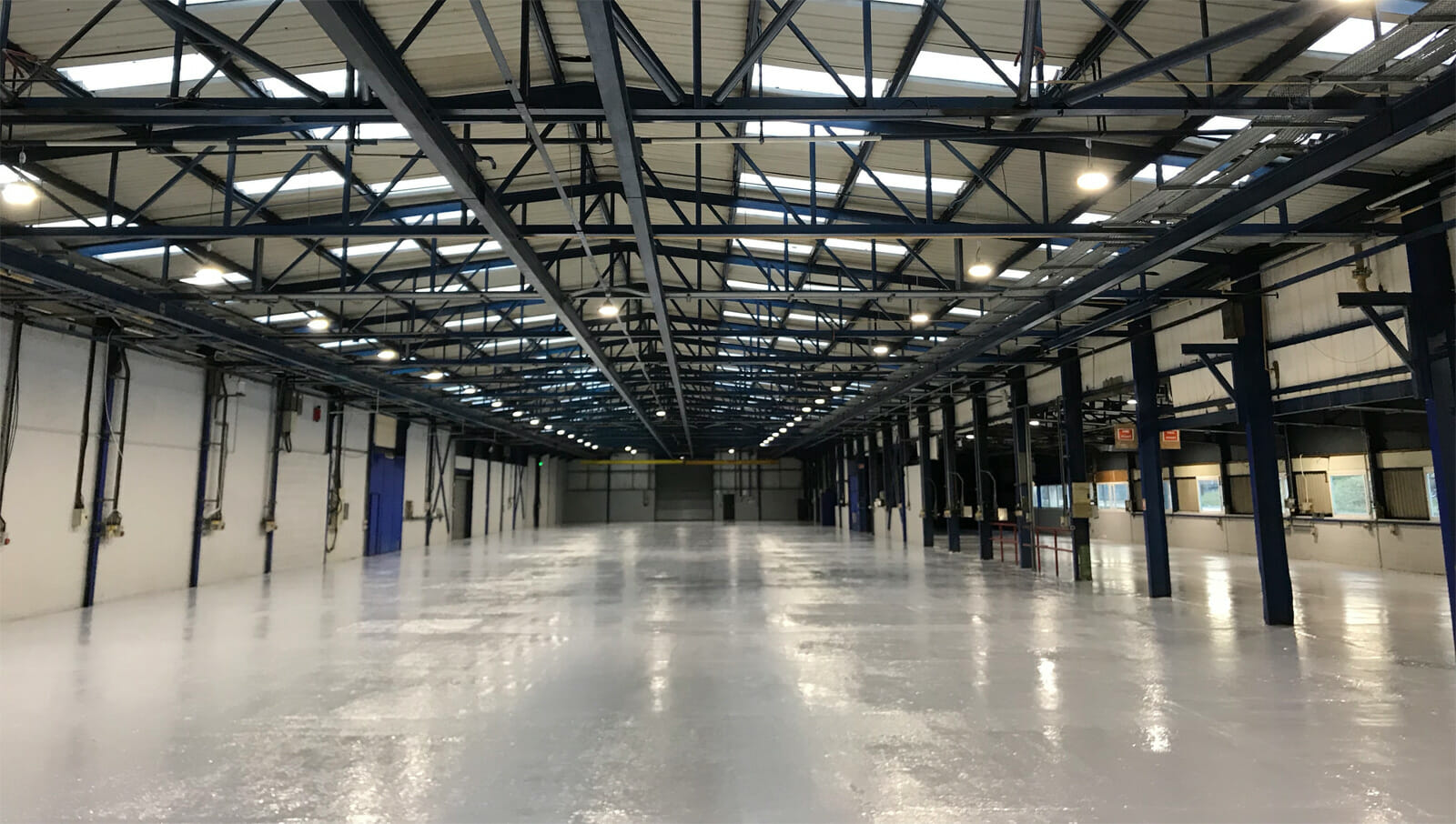 Completed job. The quickdry enamel (ford tractor blue) can be seen on the metalwork. Masonry on the walls.