Season's Greetings & welcome to December's Regal Roundup – your place to find the very best flooring, painting, decorating and DIY inspiration from across the world and the web.
Introduction
From expert How Tos, to stylish home improvement ideas, we've collected our favourite blogs and resources in one handy place. Whether you're a painting and decorating professional, a DIY devotees or a home design diva; read on and prepare to get handy…
This month: Discover everything you every wanted to kn ow about household paints, find out how the artist Renoir inspired Decorating Diva's latest colour scheme and check out a 6 hour bathroom revamp…
Everything You Ever Wanted to Know About Household Paints
Do you know your satinwood from your polyurethane gloss? Do you know your thixotropic paint from the eggshell variety? This excellent resource from the very informative DIYData website will fill you in on all you need to know about household paints.
For something which seems relatively straightforward on the surface, household paints can actually be pretty complex. Identifying the perfect mix for your walls, radiators or skirting boards can be unexpectedly difficult. DIYData's comprehensive guide should help you get everything straight.
Is Removable Wallpaper the Next Big Thing?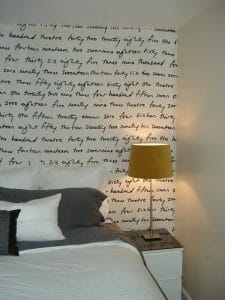 We love the idea of interior design you can put up in minutes and enjoy for a month or two before removing without a trace! For the increasing number of us living in rented properties, the ability to radically change the look and feel of your space is a really seductive one. No more ugly blank walls – and no trouble from your landlord for trying to personalise your place.
Removable wallpapers (also referred to as decals or temporary wall treatments) are already becoming popular in the States, and now they're heading over the pond. If you're keen to find out more, and glean a little inspiration, the fabulous Chelsea of Making Home Base has tonnes of great ideas in her blog on this very subject.
How to Give Your Bathroom a Makeover in 6 Hours
Could your bathroom do with a bit of bucking up? Are you strapped for time this Christmas but keen to get your bathroom looking blooming brilliant for when your guests arrive? This amazing post (from the always-inspirational Lonny Magazine's Irene Edwards) will help you take any bathroom from "ho hum…" to "well, hello!" in just 6 hours. From getting your walls looking sharp with a smart primer/paint combination, to upgrading your fixtures, this post will have your bathroom looking just plain beautiful, tout suite!
Should You Base Your Colour Scheme on Famous Artworks?
We love this creative paint scheme idea from Decorating Diva. To help create a colour scheme with a particular look and feel, the clever Decorating Diva team identified a work of art with the feel they wanted to evoke. Using the tones in Renoir's famous portrait of Mademoiselle Sicot, they were able to put together a soft, feminine, yet very rich colour scheme. Colour us impressed!
Which work of art would you choose to inspire your colour palette? Would you consider using temporary wallpaper? Do you think a 6 hour bathroom revamp is possible? Share your ideas and opinions with our readers below!