Garage Floor Paint Projects – When you have a garage floor to paint and need to choose a suitable industrial floor paint, make sure you choose the right product for the job.
Regal Floor Paints have many years of experience in the production, supply and specification of garage floor paint for a whole range of projects. In this section we will share some examples of the Garage Floor Paint Projects we have undertaken for a range of clients.
Premier GT have been in the car industry for over 45 years and is an established family run business, respected for their track record in luxury and performance cars. "These vehicles are our passion and we pride ourselves in our attention to detail and delivering a very high quality of service one would expect when buying prestigious marques such as Ferrari, Aston Martin, Bentley, Porsche and Lamborghini to name just a few."
Premier GT Performance and Luxury Car Specialists were looking for garage floor paint for their 3000 square foot luxury car showroom. It was essential that the floor paint chosen was of the highest quality to reflect the premium cars that would be displayed. The sheen of the garage floor paint and the soft grey tone was chosen to compliment the showroom colour scheme and the lustrous finish of the cars. Even more importantly, a garage floor paint was selected that was both highly durable and stain resistant.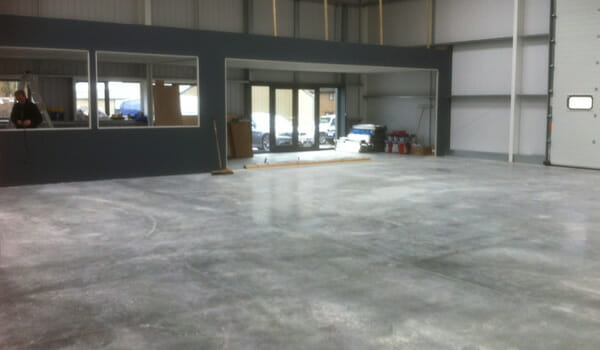 Garage Floor Initial State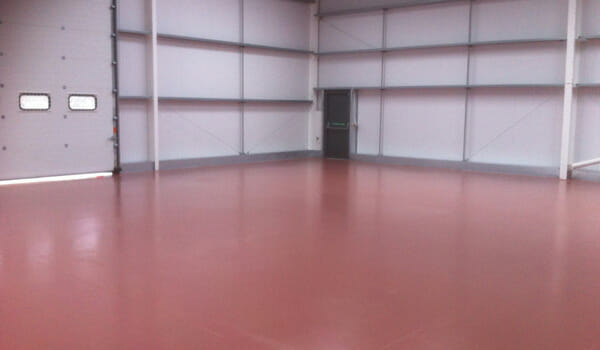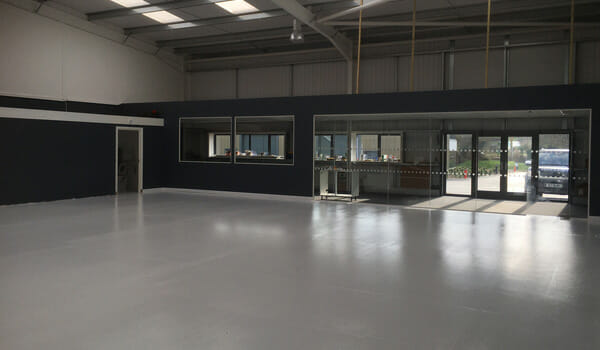 Garage Floor Paint Final Stage
The shots above show the three stages of typical garage floor paint projects.
Preparation: The concrete floor was prepared using Regal Clean n Etch, a product which is simply mixed with water, applied to the floor for a short period of time before being rinsed away.
Floor Sealer: The floor was then coated with Two-Pack Epoxy Floor Sealer (red oxide colour), a product designed to soak into bare concrete and provide a penetration coat to anchor all subsequent coats down into the floor.
Top Coat: Two-Pack Epoxy Floor Paint in white was chosen for its durability and glossy sheen finish. Regal Two-Pack Epoxy Floor Paint works in combination with our sealer under-coat to provide the hard wearing sheen finish to this epoxy floor system.
Rating our service, Premier GT said "We went for these products as we wanted to achieve a high end finish to frame our luxury cars." The project went without a hitch and was easy to apply.
Commenting on our product, the view from the garage owners was "We've been left with a gallery type environment in the showroom which helps the cars standout and maximise their looks." We would definitely use this combination of floor paints again.