Welcome back, one and all, to the Regal Round Up from Regal Paints. Each month we scour our bookmarks bar for the very best posts and blogs from painters, decorators and DIYers from all over the web, to serve up a great selection of inspiration about all things practical and beautiful from the world of interior decorating.
This month; get the "inside scoop" on how to complete an interior decorating project to the same standard as a professional painter, stock up on fresh interior design inspiration curated by The Lettered Cottage and make your own cool wall art with the crafty Debbie Doo's.
The Inside Scoop: Professional Decorating Tips
Whether you're just starting out in the painting and decorating trade or are preparing to revamp your home yourself, this fantastic blog from Never Paint Again is a must read, sharing the inside scoop on how seasoned professionals achieve a flawless finish. From starting projects "the right way" and using the correct gear, to doing edging and cutting in first, the five tips shared by these painting and decorating pros will help you seriously improve your decorating game, helping make your redecoration look sleek and professional. Thanks guys!
Interior Inspiration: The Lettered Cottage's Picks
Are you still in the process of deciding exactly how you want to decorate or redecorate your home? Perusing the web for inspiration is a smart place to start, but with so much out there, it can be easy to become overwhelmed and lose track of the look you want. That's why it's great to find a blogger with fantastic taste and vision who collects amazing inspiration (just the right amount!) and compiles regular, bite-sized round ups of their favourite stuff, just like Layla Palmer of The Lettered Cottage blog. Take a look at the images which "stopped her in her tracks" this month, to source some interior design inspiration.
Make Your Own Canvas Art with Debbie Doo's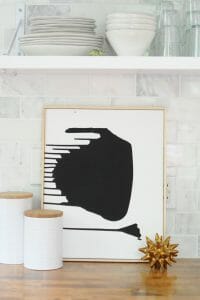 Want to brighten up your space but down feel like undergoing a complete revamp? Debbie Doo's fabulous blog is a great place to go for ideas and inspiration for household items and accessories you can make yourself. This edition shares a variety of canvas wall art projects which look impressively professional. Which will you have a go at?
Have you created DIY wall art for your home? Share your favourite tutorials, tips and pictures with other readers in the comments section below.