A (very) warm welcome back, painters, decorators and DIYers, to Regal Paint's Regal Round Up – your one stop shop for the latest and greatest blogs all about painting and decorating from talented, practical sorts online.
We supply affordable, high performance paints to individuals and professionals across the UK, but we love to see the final results of the whole process too. That's we take the time each month to browse our favourite blogs and share our favourite updates
This month; find out what a Worcester decorator gets up to on an average day up the ladder, discover fresh ways to squeeze an interior designer into your decorating budget and get the final word on paint finishes.
A day in the life of a Worcester Decorator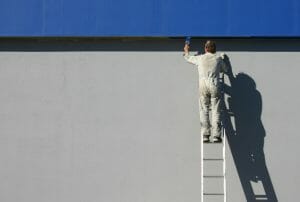 Some people are Jacks of all trades and masters of none, others are just plain great at a whole load of stuff. The brains behind the Worcester Decorator blog is one such specimen. They're clearly exacting and very good at their job, but when it comes to putting their daily experiences down in words, they're equally excellent.This supremely well-written diary entry charts the average day in the life of the Worcester decorators and it's brilliantly funny and interesting to read – especially for anybody considering entering the trade. Great stuff!
Can You Afford an Interior Designer?
Whether you're thinking about revamping your home yourself, or you're a decorator working with a client who is clearly out of their depth, it may be time to call in an interior designer. Interior design can sound like the privileged of the lucky few with a substantial budget at their disposal, but as the lovely Veronica of Casa Vilora Interiors explains, there are lots of ways you can make interior design work for you. In this blog she lists 13 ways to fit interior design into your redecorating budget.
How to Find Your PerfectHow to Find Your Perfect Paint Finish Paint Finish
From eggshell and gloss, to matte, silk and satin; which paint finish is perfect for your project? That's what this helpful blog and infographic from Ready 2 Paint is here to help you find out. In their clear, simple and helpful, Ready 2 Paint runs through the most common types of finish out there, listing their pros, cons and aesthetic effects. Handy, that! Which will you choose?
Do you have a favourite finish? Have you ever worked with an interior designer? Share your thoughts, picks, tips and experiences with other readers below.