This month, discover 3 easy finishing touches that will take your paint job from sleek to dazzling, plus find out more about getting into painting and decorating from Dulux Decorator Centre.
Introduction
Hello & welcome back to the Regal Round Up from Regal Paints, your monthly spot to find painting and decorating tips for pros and DIYers.
Little Extras: 3 Wall Decoration Ideas
Once you've undertaken the (sometimes mundane) task of painting a space from top to bottom – and achieving a perfect finish – it's time for the fun bit. Whether you're a professional painter and decorator or a home DIYer, those finishing touches make all the difference, taking a superbly painted space to another level altogether.
This great post from the always inspiring House Beautiful magazine has 3 lovely little ideas which will give your paint job that little something extra, from pretty stencils and wallpaper headboards to bold feature skirting boards. Get your inspiration here!
A Real Life Paint Colour Picker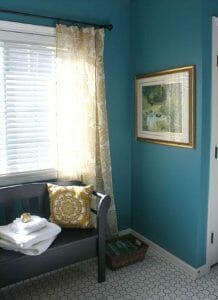 Not sure what shade to paint your next space? Hooked on Houses blogger Julia has compiled an excellent collection of interiors she has designed, complete with paint colour references to help you identify that perfect tone. Full of bright and colourful creations, Julia's site features sea salt greys, hazy blues, pecan browns and lots more. Great for seeing shades in context!
Something Different: Wall Surfaces That Surprise
We may be big fans of painted properties here at Regal Paints, but the perfect paint colour and finish isn't always the be all and end all when it comes to interior design. Dream Wall posted a great blog this month, showcasing a few of the amazing wall surfaces which they will be exhibiting at 2015's Surface Design Show.
We have to say, we're impressed. Their recycled Rioja barrel surfaces look especially good, rich in texture and warm in tone. Take a look for yourself to find your new, dream feature wall!
Aspiring Decorator? Check Out the Dulux Decorator Centre
Are you considering launching a career as a painter and decorator? Whether you're a student in search of a steady trade, or a passionate DIYer looking for a career change, the Dulux Decorator Centre is a great place to find a range of training courses and a whole bunch of helpful how to videos to get you started. Well worth a look.
Are you considering getting into painting and decorating? What's your paint colour of the month? Do you have any painting and decorating tips for our readers? Let us know below!