Happy New Year! Welcome to 2015 at Regal Paints. This year our round up will feature inspiring articles, interesting ideas and plenty of practical tips for home owners and handy-people alike, hand-picked from across the world and the web.
Introduction
This month, stay tuned for a super simple solution to paint drips , plus the answers to all of your pre-paint preparation questions!
This One Simple Trick Means No Paint Drips
Whether you're a DIYer or a pro, sometimes drips happen. Sometimes this means little more than a messy paint tin and a painty dust sheet. Other times it can mean a ruined carpet or a tricky stain on the floor. Fortunately, the genius House Beautiful team have the answer.
Their solution is so smart and simple, you're just going to have to get over the the Home Beautiful blog to find out for yourself. Trust us, it's worth it – and no more paint drips!
The NewYork Design Centre: Your New Interior Inspiration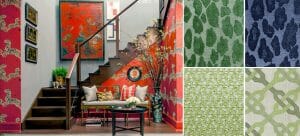 Welcome to your new favourite spot for cutting edge interior design inspiration. Whether you're revamping your space on a shoestring or just love innovative design, this site is full of great interior design ideas you can salivate over or steal – the choice is yours. The New York Design Centre regularly showcase the best and latest in design in their news section, giving you a regular interior style update.
We're especially impressed with this beautiful interior designed to showcase the release of Scalamandre's new collection of wallcoverings, prints and fabrics. Take the inspiration & create your own!
Discover: Paint by Conran
Here at Regal Paints we may specialise in the more practical end of the paint spectrum, but that doesn't mean we can't appreciate the beauty of a great new paint collection, in colours inspired by the great British countryside – hand-picked by Homes & Antiques Magazine.
The collection has been created by cult designer Terence Conran and features 96 delectable shades in 5 distinct collections including the very charming "Kitchen Garden" range. And, once you've chosen your new designer shade, why not set it off to its greatest advantage with a base coat of high quality primer?
Preparing Walls: The Ultimate FAQ Collection
We know that most of you just want to get on and paint! However, it really pays to do some proper preparation before you pick up your paintbrush. But different walls and surfaces require different approaches , especially if you want to achieve a flawless finish.
Fortunately Dulux Trade Paint Expert have compiled all of those pesky preparation FAQs into a bumper list of helpful answers which will help ensure you have the perfect surface for painting.
And finally a quick high-five to Shalom over at HandymanExpress – a great guy and specialist in home improvement projects.
Is preparing surfaces the bane of your life? Do you have any helpful tips to make the process "smoother"? Share your experiences and ideas with other painters, decorators and DIYers below.