Merry Christmas, Happy New Year and a warm seasonal welcome back to the Regal Paint Round Up. As stockists of great, affordable paints and tools for everyone from professional decorators, to keen DIYers, we like to keep up to date with everything the good folk in our industry and sector are up to. Each month we keep up with blogs written by painters and decorators, interior designers and Do-It-Yourself heroes to bring you the most helping posts and interesting news from the world of interior painting.
This month: Explore traditional paints perfect for period houses, find out how to paint brand new plaster, plus learn how to cut in like a true painting and decorating professional, for perfectly finished walls.
Traditional Paints for Period Houses
If you're fortunate enough to be working on or living in a period home, there's nothing quite like restoring the old place to its former splendour. While there's a lot to be said for the contrast a modern finish can bring, going back to the roots of a property and applying traditional products can look very good indeed.
In the blog from Juniper Ash you can find out more about the types of traditional paint available, how they work and whether they're suitable for a property. From chalk, clay and lime based paints, to pigments made using oils and natural colourings, there's lots of interesting information and advice to read up on here.
How to Cut In Perfectly
Cutting in is a handy technique anybody keen to achieve a perfect finish with their painted wall should know about. When you paint with rollers, you'll find that as you get to the edges of a wall, you can't ensure that nice clean line where the paint meets your ceiling or skirting. To ensure you get a nice, straight, splatter free finish, you need to cut in. This involves first painting neatly around skirtings and ceilings using a brush, to create a border you can then fill in with a roller. Sounds simple right? Well, if you want to do cutting in properly, there are a few important pointers to pick up, which the skilled Craig Brooks (of Craig Brooks Painting & Decorating in Swindon) has shared in his recent blog and video. Handy stuff!
How to Paint Fresh Plaster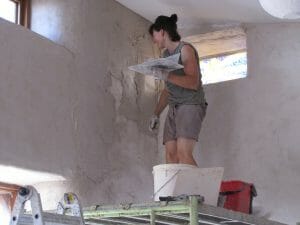 If you're in the middle of a redecoration and you've just had a beautifully smooth, fresh coat of plaster applied, you're probably itching to get painting. But hold your horses. Plaster must be thoroughly dry prior to its first lick of paint, and even after the 5-10 day waiting period has elapsed, it's very important to take care when painting a fresh coat of plaster. Fortunately, Henry Fix has put together a simple and comprehensive guide to painting new plaster, to save you from heartache and home décor disasters.Get his great advice right here.
Are you a painting and decorating pro? Perhaps you have some tips of your own to share with our readers? Let us know below!