Happy New Year painters, decorators and DIYers! Whether you're a seasoned professional, or new to "doing it yourself" you'll find great deals on paints in our online store, along with lots of helpful advice and inspiration right here in our "Regal Round Up".
Every month we scour the web for the best tips, tricks and ideas when it comes to painting and decorating. From "how tos", to spaces with the "wow factor", you'll find tonnes of great stuff, fresh this month, below.
This month: Find out which everyday kitchen items could help to make house painting projects much easier, learn everything you need to know about eco-friendly paints plus find out how to save money on new paint jobs
These Everyday Kitchen Items Can Make Painting Easier
Sometimes all it takes is a little ingenuity and know how to make painting projects smoother and simpler. That's whythis helpful post fromDebbie Zimmer of the Paint Quality Institute blog is a great read. In her article, Debbie shares some pro tips for house painting which won't cost a penny and can be put together in a matter of minutes using common items from your very own kitchen. From cling film and dishcloths, to masking tape and foil – Debbie has a clever use for all sorts of odds and ends you'll find and your fingertips at home. Handy stuff!
Eco-Friendly Wall Paint: Explained
Are you hoping to create a greener interior in your property – or your clients' properties? You may have been considering using eco-friendly paint. Relatively new on the market, this product is not one which many people know much about: How has it achieved its Green credentials? How does it differ from "regular" paint? Is the application process the same? How durable is it? Luckily enough, if you've found yourself asking these questions,this handy blog fromWilliams Professional Painting has all of the answers you need to get up to speed. Thanks guys!
How to Save Money on Your Next Home Painting Project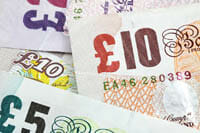 Ready for an interior design update but don't want to break the bank while doing it? No problem.Greg Gondek (AKA Greg The Painter) has some tip top ideas that will help you keep the cost down, which he has sharedin a recent blog. From using a heavy primer to ensure longevity and great finished look you won't need to redo, to finding a cheaper alternative to specialist drop cloths in charity shops, there are lots of ways to make a paint job less painful to the pocket here.
What are your secret painting weapons? How do you save money on the whole process? Share your tips and tricks below.