This month we'll be helping you to get those freshly painted doors and windows unstuck, giving you a few great pointers to help you decorate your guest bedroom, and sharing a brilliant step-by-step guide to revamping your kitchen by simply painting your kitchen cupboards.
Introduction
Welcome back to the Regal Round Up, Regal Paints place to share helpful painting and decorating tips with DIYers and professional painters alike.
Let's get stuck in!
How to Unstick Stuck Windows & Doors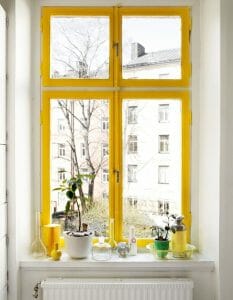 You've carefully applied a smooth, uniform layer of paint to your walls and given your window and door frames a touch up too, the jobs a good 'un, until… You try to open the window or door and – it's stuck.
Before you try to force it, make sure you read this blog from painting and decorating expert Adrian Rayfield on the Property Decorating website. Use brute force and you could undo all of your careful paintwork, but apply Adrian's advice to your predicament and you'll have your windows and doors wide open and looking paint perfect in next to no time. Handy stuff!
A Decorator's Guide to Guest Bedrooms
Guest rooms aren't the easiest areas to decorate when you're undertaking a revamp. You want your guest room to channel your personality as a home owner, but you also want your guests to feel both comfortable and welcomed.
Another fly in the ointment is the diverse range of guests you're likely to welcome to your guest room. From your mum, to your wildest chum from your university days, it's not always easy to get all of these delicate balances right without putting together a room which looks, well…bland.
Fortunately, specialist decorating materials provider Ray Munn LTD has helped create its fair share of guest bedrooms, and has lots of helpful pointers that will ensure you get things just right.
How to Repaint Kitchen Cabinets
Is your kitchen looking a little lacklustre? Are you struggling to find the time to give it a good old fashioned spruce up? Simply repainting your kitchen cabinets is quick, surprisingly easy and could transform your entire kitchen in just a few hours.
If you're considering repainting your kitchen cupboards, this blog from Top Notch Painting & Decorating is remarkably thorough, taking you through every single step; from choosing a primer to putting your kitchen back together (they really know their stuff!). A great read when you want to do a good job.

Have you repainted your kitchen cabinets recently? Do you have any extra helpful tips to add to the list? What approach have you taken in your guest bedroom? Share your ideas and inspirations with other readers below.